AC Maelstrom: L4 Baby Varg: Dominion Ready.

224
11
151 Views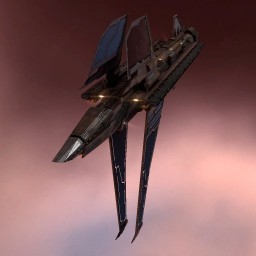 Modulename
I've been playing this one close to my chest for a while, because I wanted to test it out before posting. (Wanted to make sure it didn't suck tremendously.)
NOTE: Updated for Dominion! New stats, too.
After running a couple hundred missions in the Vargur fits I have posted here, I was curious to see if the Maelstrom could work with a similar setup. The answer is yes, and much better than I expected. It needed help with tracking, however, to match the Varg's built-in bonus, and it loses damage because faction ammo gets just too expensive to use...but otherwise, it worked great. I give you the following stats (updated):
Barrage: 781 DPS Turrets. 8.5KM Optimal + 69KM Falloff.
EMP/Fusion/Phased Plasma: 852 DPS Turrets. 4.2KM Optimal + 46KM Falloff.
Resistances (setup for angels): 48.3% EM, 58.6% TH, 69% KIN, 86.2% EXP
Defense (against angels): 850 cap booster sustained.
The cap boosted shield tank works just fine for any mission I've run, though I haven't put it through Angel Extravaganza or Smash The Supplier yet. (Might have trouble with those two.)
For comparison, here's an image of the damage curve compared to
my T2 Vargur fit
, both targets shooting a battleship class target (drones turned off, Baby Varg in green):
EDIT - Here's something crazy: The Vargur's range in the graph below is actually the Dominion range of this fit. That big of an improvement. Pretty nice huh? Fly it like a pre-Dominion Vargur!
It does pretty well up until around 40KM, which makes it still very useable against Angel targets. If you plan on hopping into a Vargur some day, this may make excellent training wheels in the mean time.
EDIT:
Since Dominion came out, the hardest part of this fit that I was mulling over before updating it was the rigs. In the end, I settled with a happy medium of extra damage, range, and tank. If you'd prefer something else, I'll leave it up to you.
One last note: Since Valkyries seem to be performing almost as well against unwebbed frigs as Warriors, I (tentatively) recommend 5x Valks, 2x Berserks for drones. Pop the Serks out for BSs with 3x valks, and use just Valkyries for the rest.
EDIT: Made a few updates thanks to Zee87. Thanks man!
LAST EDIT: New rigs for even more killing efficiency. See last post by me.
2/11/11 EDIT:
I get asked a lot how the Mael should be fit while you're training for T2 ACs. Without being able to use Barrage, I think that the artillery Maelstrom has more to offer for the average mission. I would fit the ship as following, using 1200s because of the better tracking and faster rate of fire:
[Maelstrom, Arty Complement]
1200mm Heavy 'Scout' Artillery I, Republic Fleet Fusion L
1200mm Heavy 'Scout' Artillery I, Republic Fleet Fusion L
1200mm Heavy 'Scout' Artillery I, Republic Fleet Fusion L
1200mm Heavy 'Scout' Artillery I, Republic Fleet Fusion L
1200mm Heavy 'Scout' Artillery I, Republic Fleet Fusion L
1200mm Heavy 'Scout' Artillery I, Republic Fleet Fusion L
1200mm Heavy 'Scout' Artillery I, Republic Fleet Fusion L
1200mm Heavy 'Scout' Artillery I, Republic Fleet Fusion L
100MN Afterburner II
Invulnerability Field II
Invulnerability Field II
Explosion Dampening Field II
Heavy Capacitor Booster II, Cap Booster 800
X-Large Shield Booster II
Tracking Enhancer II
Tracking Enhancer II
Republic Fleet Gyrostabilizer
Republic Fleet Gyrostabilizer
Republic Fleet Gyrostabilizer
Large Projectile Burst Aerator II
Large Core Defence Capacitor Safeguard I
Large Core Defence Capacitor Safeguard I
Targeting
| | | |
| --- | --- | --- |
| | Maximum targets | 7 |
| | Maximum targeting range | 93.75 km |
| | Scan resolution | 112.5 |
| | Sensor strength | 0 21 0 0 |
Size/Movement
| | | |
| --- | --- | --- |
| | Maximum velocity | 117.5 |
| | Inertia modifier | 0.0918 |
| | Signature radius | 503.99 m |
| | Cargo capacity | 550 m3 |
Systems
| | | |
| --- | --- | --- |
| | Capacitor capacity | 7500 GJ |
| | Capacitor recharge time | 15 minutes 37 seconds |
| | Powergrid | 18324 / 26250MW |
| | CPU | 773 / 800 tf |
Shields
| | | |
| --- | --- | --- |
| | Shield capacity | 10000 |
| | Shield recharge time | 31 minutes 15 seconds |
| | Shield resistances | 48.25% 86.21% 68.95% 58.6% |
Armor
| | | |
| --- | --- | --- |
| | Armor hit points | 9375 |
| | Armor resistances | 60% 10% 25% 35% |
Structure
| | | |
| --- | --- | --- |
| | Structure hit points | 8750 |
| | Structure resistances | 0% 0% 0% 0% |
| | Drone bandwidth | 100 Mbit/sec |
| | Drone control range | 0 m |
Drones
| | | |
| --- | --- | --- |
| | Drone capacity | 100 m3 |
Download EVEMon Skill Plan
[Maelstrom, AC Maelstrom: L4 Baby Varg: Dominion Ready.]
Tracking Enhancer II
Tracking Enhancer II
Republic Fleet Gyrostabilizer
Republic Fleet Gyrostabilizer
Republic Fleet Gyrostabilizer

Tracking Computer II
Adaptive Invulnerability Field II
Adaptive Invulnerability Field II
Explosive Deflection Field II
Heavy Capacitor Booster II
X-Large Shield Booster II

800mm Repeating Cannon II
800mm Repeating Cannon II
800mm Repeating Cannon II
800mm Repeating Cannon II
800mm Repeating Cannon II
800mm Repeating Cannon II
800mm Repeating Cannon II
800mm Repeating Cannon II

Large Core Defense Capacitor Safeguard I
Large Core Defense Capacitor Safeguard I
Large Projectile Burst Aerator II


Berserker II
Valkyrie II

Item
Quantity
Value
Maelstrom
1
192,000,000
Fusion L
1
185
Phased Plasma L
1
200
EMP L
1
214
Tracking Computer II
1
870,000
Tracking Enhancer II
2
639,874
Adaptive Invulnerability Field II
2
1,749,000
Explosive Deflection Field II
1
1,379,960
Berserker II
1
1,250,900
800mm Repeating Cannon II
8
3,697,890
Heavy Capacitor Booster II
1
1,329,130
X-Large Shield Booster II
1
2,000,000
Barrage L
1
321
Republic Fleet Gyrostabilizer
3
77,000,000
Valkyrie II
1
690,000
Large Core Defense Capacitor Safeguard I
2
530,000
Large Projectile Burst Aerator II
1
18,798,000
Optimal Range Script
1
119
Total
484,739,896