Highsec Covetor Miner - 1436m3/Min
2
0
36,041 Views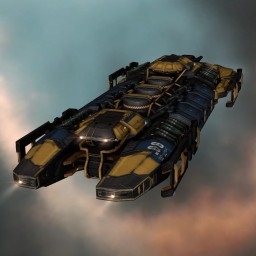 Modulename
This is my Covetor fit that I will be flying until I save up for my Hulk/skill up to Exhumers 4/skill up my mining drones some as well.

This fit is a close one leaving 1.64 CPU left over. It requires Electronics V, as well as the cheap KMB-25 1% CPU Bonus implant.

As usual, my Dread Guristas Co-Processor that has been fit on my Retriever, my Rokh Miner, and now this ship will be used.

The 1436m3/Min yield also includes the relatively cheap HX-1 3% mining yield bonus implant, T2 mining crystals, and 5x Mining Drone I's.

The cargo rig allows a complete 3 minute cycle of all the lasers as well as 3 drone trips, so there won't need to be any staggering. Its not necessary, but worth it in my opinion.

Training Drones Rigging to Level 3 would allow for the use of the Survey Scanner II without having to use the 1% CPU implant - but training it to only Level 2 takes no time at all, and the implant is really cheap, so its up to you which way you want to go.

Obviously, this is a fit for High Security space.

Targeting
| | | |
| --- | --- | --- |
| | Maximum targets | 6 |
| | Maximum targeting range | 43.75 km |
| | Scan resolution | 825 |
| | Sensor strength | 0 0 8 0 |
Size/Movement
| | | |
| --- | --- | --- |
| | Maximum velocity | 125 |
| | Inertia modifier | 0.3105 |
| | Signature radius | 200 m |
| | Cargo capacity | 402.5 m3 |
Systems
| | | |
| --- | --- | --- |
| | Capacitor capacity | 390.63 GJ |
| | Capacitor recharge time | 2 minutes 20 seconds |
| | Powergrid | 39 / 43.75MW |
| | CPU | 224 / 327.95 tf |
Shields
| | | |
| --- | --- | --- |
| | Shield capacity | 2125 |
| | Shield recharge time | 12 minutes 30 seconds |
| | Shield resistances | 0% 50% 40% 20% |
Armor
| | | |
| --- | --- | --- |
| | Armor hit points | 1543.75 |
| | Armor resistances | 60% 10% 25% 35% |
Structure
| | | |
| --- | --- | --- |
| | Structure hit points | 1875 |
| | Structure resistances | 0% 0% 0% 0% |
| | Drone bandwidth | 50 Mbit/sec |
| | Drone control range | 0 m |
Drones
| | | |
| --- | --- | --- |
| | Drone capacity | 50 m3 |
Download EVEMon Skill Plan
[Covetor, Highsec Covetor Miner - 1436m3/Min]
Dread Guristas Co-Processor
Mining Laser Upgrade II

'Dactyl' Type-E Asteroid Analyzer

Modulated Strip Miner II
Modulated Strip Miner II
Modulated Strip Miner II

Medium Cargohold Optimization I
Medium Drone Mining Augmentor I
Medium Drone Mining Augmentor I


Hobgoblin I
Mining Drone I

Item
Quantity
Value
Covetor
1
29,751,000
Hobgoblin I
1
734
'Dactyl' Type-E Asteroid Analyzer
1
6,506
Mining Drone I
1
7,987
Dread Guristas Co-Processor
1
71,000,000
Modulated Strip Miner II
3
4,100,000
Kernite Mining Crystal II
1
1,000
Plagioclase Mining Crystal II
1
155,606
Pyroxeres Mining Crystal II
1
103
Scordite Mining Crystal II
1
118,290
Veldspar Mining Crystal II
1
88,017
Mining Laser Upgrade II
1
750,000
Medium Cargohold Optimization I
1
1,318,610
Medium Drone Mining Augmentor I
2
2,050,000
Total
119,597,853