My First Inquisitor
1
0
185 Views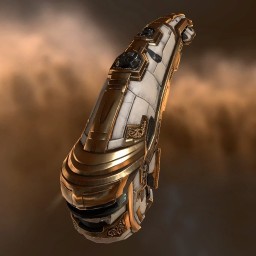 Modulename
You're a brand new Amarr pilot who knows nothing about shooting anything that's not a beam of light.

Hmmm, you say, a missile-boat in the middle of the Amarr line-up. Hmmm, you say, maybe I'll give it a whirl.

Assuming you then take the time to train some very basic rocket skills, this is the loadout for you. It will introduce you to rocketry without too much frustration of losing several ships through trial and error.

If you find you like lighting rocket fuses and holding your ears while they shoot away, try rage rockets. There's a good inquisitor loadout here on BC that you can train towards.

Edit: Thanks for the correction, I did mean to put rocket launchers on.

Also, the turret is more for drone defense than actually shooting at ships.
Targeting
| | | |
| --- | --- | --- |
| | Maximum targets | 7 |
| | Maximum targeting range | 45 km |
| | Scan resolution | 1125 |
| | Sensor strength | 0 0 0 10 |
Size/Movement
| | | |
| --- | --- | --- |
| | Maximum velocity | 1018.74 |
| | Inertia modifier | 2.39625 |
| | Signature radius | 34 m |
| | Cargo capacity | 250 m3 |
Systems
| | | |
| --- | --- | --- |
| | Capacitor capacity | 562.5 GJ |
| | Capacitor recharge time | 2 minutes 23 seconds |
| | Powergrid | 33.3 / 63.75MW |
| | CPU | 119.75 / 168.75 tf |
Shields
| | | |
| --- | --- | --- |
| | Shield capacity | 281.25 |
| | Shield recharge time | 7 minutes 48 seconds |
| | Shield resistances | 7.5% 53.75% 44.5% 26% |
Armor
| | | |
| --- | --- | --- |
| | Armor hit points | 625 |
| | Armor resistances | 55% 28% 32.5% 41.5% |
Structure
| | | |
| --- | --- | --- |
| | Structure hit points | 412.5 |
| | Structure resistances | 50% 50% 50% 50% |
| | Drone bandwidth | 5 Mbit/sec |
| | Drone control range | 0 m |
Drones
| | | |
| --- | --- | --- |
| | Drone capacity | 5 m3 |
Download EVEMon Skill Plan
[Inquisitor, My First Inquisitor]
Small Armor Repairer I
Damage Control I
Ballistic Control System I
Empty

1MN Afterburner I
Cap Recharger I

Gatling Pulse Laser I
'Arbalest' Rocket Launcher I
'Arbalest' Rocket Launcher I
'Arbalest' Rocket Launcher I

Empty
Empty
Empty



Item
Quantity
Value
Inquisitor
1
368,456
1MN Afterburner I
1
9,239
Gatling Pulse Laser I
1
500
Small Armor Repairer I
1
1,517
Cap Recharger I
1
17,905
Damage Control I
1
13,474
Ballistic Control System I
1
79,897
'Arbalest' Rocket Launcher I
3
466,500
Total
1,890,487