EFT LvL 4 mission / Ganking Loki
1
0
1,996 Views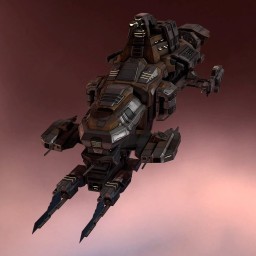 Modulename
Ok Let me start off by saying yes this is a EFT fit and also my Loki is pretty much fit this wat just missing 3 of the mods which I am currently working to get. This is also set to my skills and "NOT" to all LVL 5.

With out further delay here are the stats.

Active shield tank that is cap stable @ 48%
Shield resists are 90.8 / 85.3 / 77.9 / 81.6
With a EHP of 31,154

It can sustain 731 dps

Puts out 477.8 dps.

Speed 903 m/s and if you over heat you can go 1221 m/s.

Also the sig radius is 110.5

Now I know I personally would never take this ship with this fit into pvp but you never know if someone feels froggy and you have no choice. I have been targetted many times in low sec just due to the class ship and everyone wantting this ship as a kill mail.

I know it is a expensive fit and "YES" it could be alot more exspensive. But if you can afford this ship then you should fit it out right and this to me atleast seems like the right fit.

If you don't like the fit please leave me a suggestion instead of just giving me a -1. Thank-you

*Side note* I also am useing implants that gives me 5% to all projectile dmg, 5% to medium projectile dmg, and 5% to tracking.
Targeting
| | | |
| --- | --- | --- |
| | Maximum targets | 5 |
| | Maximum targeting range | 93.75 km |
| | Scan resolution | 343.75 |
| | Sensor strength | 0 29.75 0 0 |
Size/Movement
| | | |
| --- | --- | --- |
| | Maximum velocity | 961.78 |
| | Inertia modifier | 0.3375 |
| | Signature radius | 97.5 m |
| | Cargo capacity | 0 m3 |
Systems
| | | |
| --- | --- | --- |
| | Capacitor capacity | 2915 GJ |
| | Capacitor recharge time | 3 minutes 38 seconds |
| | Powergrid | 775 / 1007.81MW |
| | CPU | 407.75 / 418.75 tf |
Shields
| | | |
| --- | --- | --- |
| | Shield capacity | 3412.5 |
| | Shield recharge time | 18 minutes 38 seconds |
| | Shield resistances | 90.78% 81.57% 77.88% 85.25% |
Armor
| | | |
| --- | --- | --- |
| | Armor hit points | 2187.5 |
| | Armor resistances | 91.5% 23.5% 36.25% 72.38% |
Structure
| | | |
| --- | --- | --- |
| | Structure hit points | 2013.75 |
| | Structure resistances | 60% 60% 60% 60% |
| | Drone bandwidth | 25 Mbit/sec |
| | Drone control range | 0 m |
Drones
| | | |
| --- | --- | --- |
| | Drone capacity | 50 m3 |
Download EVEMon Skill Plan
[Loki, EFT LvL 4 mission / Ganking Loki]
Damage Control II
Shadow Serpentis Power Diagnostic System
Republic Fleet Gyrostabilizer
Republic Fleet Gyrostabilizer
Republic Fleet Gyrostabilizer
Republic Fleet Overdrive Injector

Dread Guristas Adaptive Invulnerability Field
Dread Guristas Adaptive Invulnerability Field
Gistum A-Type 10MN Afterburner
Pithum A-Type Medium Shield Booster
Pith X-Type Shield Boost Amplifier

425mm AutoCannon II
425mm AutoCannon II
425mm AutoCannon II
425mm AutoCannon II
425mm AutoCannon II

Large Projectile Metastasis Adjuster I
Large Projectile Metastasis Adjuster II
Medium Projectile Ambit Extension II

Loki Defensive - Amplification Node
Loki Electronics - Dissolution Sequencer
Loki Propulsion - Fuel Catalyst
Loki Offensive - Projectile Scoping Array
Loki Engineering - Capacitor Regeneration Matrix

Warrior II

Item
Quantity
Value
Loki
1
185,759,000
Damage Control II
1
501,090
Warrior II
1
295,000
425mm AutoCannon II
5
1,347,500
Barrage M
1
150
Dread Guristas Adaptive Invulnerability Field
2
170,000,000
Shadow Serpentis Power Diagnostic System
1
5,001
Republic Fleet Gyrostabilizer
3
74,240,900
Republic Fleet Overdrive Injector
1
2,200
Gistum A-Type 10MN Afterburner
1
279,019,000
Pithum A-Type Medium Shield Booster
1
267,000,000
Pith X-Type Shield Boost Amplifier
1
95,000,000
Large Projectile Metastasis Adjuster I
1
549,000
Large Projectile Metastasis Adjuster II
1
15,989,700
Loki Defensive - Amplification Node
1
21,151,200
Loki Electronics - Dissolution Sequencer
1
46,600,000
Loki Propulsion - Fuel Catalyst
1
50,999,500
Loki Offensive - Projectile Scoping Array
1
45,900,300
Loki Engineering - Capacitor Regeneration Matrix
1
47,000,000
Medium Projectile Ambit Extension II
1
12,000,000
Total
1,637,231,340