The Right Way to Fit a Tengu
103
59
168,883 Views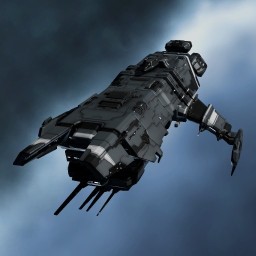 Modulename
Having seen fail fit after fail fit for t3 cruisers, I felt I should put my own Tengu up for people to see. Greengimp's setup is effective, but I use this setup to take advantage of the added DPS that rage missiles can give.
Of course I also put faction missiles :p
Note that this setup requires a 1% PG implant as well.
Changed rig sizes. Easier to get into EFT now hopefully...Also added Javelin missiles (628 DPS with 45.6km range) and this note:
If you are fighting Sansha/Blood exchange one of the CN invulns for an EM hardener if you wish - the tank is sufficient w/o the switch but it's more safe.
Major revision: changed medium booster into pithi a-type small - still FAR more than enough tank with AB running. This allows for the removal of the need for a 1% PG implant (yay) and also cap stability without rig support...now rigs could be used for Flares and Bay thrusters. Boost amp in place of target painter for anti-Sansha tank, which is shown. For Guristas and many other pirate factions the boost amp isn't necessary and the TP could stay. These revisions, I feel, streamline the ship and make it more practical for everyone to fly. It is the version I currently fly. If you are concerned about damage against smaller ships, I'll tell you that it does enormous damage against frigates and cruisers and higher rage HAMs hit at full damage (basically). That should solve some questions. Further revisions and suggestions will be tolerated
Targeting
| | | |
| --- | --- | --- |
| | Maximum targets | 5 |
| | Maximum targeting range | 117.1875 km |
| | Scan resolution | 293.75 |
| | Sensor strength | 35 0 0 0 |
Size/Movement
| | | |
| --- | --- | --- |
| | Maximum velocity | 650.14 |
| | Inertia modifier | 0.26123 |
| | Signature radius | 150 m |
| | Cargo capacity | 0 m3 |
Systems
| | | |
| --- | --- | --- |
| | Capacitor capacity | 2070.31 GJ |
| | Capacitor recharge time | 5 minutes 18 seconds |
| | Powergrid | 675.2 / 750MW |
| | CPU | 533 / 635 tf |
Shields
| | | |
| --- | --- | --- |
| | Shield capacity | 4562.5 |
| | Shield recharge time | 20 minutes 22 seconds |
| | Shield resistances | 0% 50% 92.95% 80% |
Armor
| | | |
| --- | --- | --- |
| | Armor hit points | 3062.5 |
| | Armor resistances | 50% 10% 62.5% 86.25% |
Structure
| | | |
| --- | --- | --- |
| | Structure hit points | 2076.25 |
| | Structure resistances | 0% 0% 0% 0% |
| | Drone bandwidth | 0 Mbit/sec |
| | Drone control range | 0 m |
Drones
| | | |
| --- | --- | --- |
| | Drone capacity | 0 m3 |
Download EVEMon Skill Plan
[Tengu, The Right Way to Fit a Tengu]
Caldari Navy Ballistic Control System
Caldari Navy Ballistic Control System
Caldari Navy Ballistic Control System
Caldari Navy Ballistic Control System

Kinetic Deflection Field II
Kinetic Deflection Field II
Dread Guristas Shield Boost Amplifier
Republic Fleet 10MN Afterburner
Pithi A-Type Small Shield Booster
Phased Weapon Navigation Array Generation Extron

Heavy Assault Missile Launcher II
Heavy Assault Missile Launcher II
Heavy Assault Missile Launcher II
Heavy Assault Missile Launcher II
Heavy Assault Missile Launcher II
Heavy Assault Missile Launcher II

Medium Hydraulic Bay Thrusters II
Medium Warhead Flare Catalyst II
Medium Warhead Flare Catalyst II

Tengu Defensive - Amplification Node
Tengu Electronics - Dissolution Sequencer
Tengu Propulsion - Fuel Catalyst
Tengu Offensive - Accelerated Ejection Bay
Tengu Engineering - Augmented Capacitor Reservoir


Item
Quantity
Value
Tengu
1
190,000,000
Kinetic Deflection Field II
2
1,350,000
Scourge Rage Heavy Assault Missile
1
100
Dread Guristas Shield Boost Amplifier
1
7,000,000
Caldari Navy Ballistic Control System
4
1
Republic Fleet 10MN Afterburner
1
56,517,100
Pithi A-Type Small Shield Booster
1
47,350,000
Phased Weapon Navigation Array Generation Extron
1
455,153
Scourge Javelin Heavy Assault Missile
1
84
Heavy Assault Missile Launcher II
6
980,000
Caldari Navy Scourge Heavy Assault Missile
1
986
Tengu Defensive - Amplification Node
1
51,000
Tengu Electronics - Dissolution Sequencer
1
57,000,000
Tengu Propulsion - Fuel Catalyst
1
46,000,000
Tengu Offensive - Accelerated Ejection Bay
1
46,390,000
Tengu Engineering - Augmented Capacitor Reservoir
1
59,000,000
Medium Hydraulic Bay Thrusters II
1
18,400,000
Medium Warhead Flare Catalyst II
2
19,597,600
Total
575,939,627