Ion Blaster PvP rokh
133
6
42,914 Views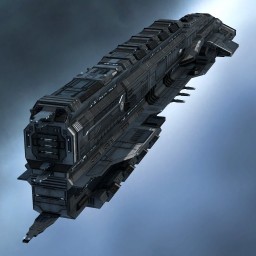 Modulename
Some fairly mediocre Rokh fits about on battleclinic so I thought I'd post the fit I'm currently using.

This fit utilizes ion blasters so that there is enough grid left over for the ALL important MWD without having to sacrifice a low for a RCU.

With the spare low I can fit a tracking mod which in practice combined with the superior tracking of ions gives better actual DPS than neutrons.

The rest of the fit is fairly self explanatory, without the MWD capacitor lasts just over 4 mins(about the exact same time that 20 cap booster 800's lasts in a t2 injector).

The rigs are dirt cheap and are the best combination for making the tank sustainable but also tanking the most possible DPS.

I usually carry 5 EC-300's and 5 Hobgoblin II's

Stats:

802 DPS without drones(922 overheated)

806 DPS tank for 4 mins 12 secs(1192 with heat)

86k EHP

I do not fit a point or web as the Rokh is far from a decent solo boat due to it's rather pathetic drone bay and having to sacrifice a great deal of tank for tackle.




Targeting
| | | |
| --- | --- | --- |
| | Maximum targets | 7 |
| | Maximum targeting range | 112.5 km |
| | Scan resolution | 93.75 |
| | Sensor strength | 24 0 0 0 |
Size/Movement
| | | |
| --- | --- | --- |
| | Maximum velocity | 796.26 |
| | Inertia modifier | 0.0918 |
| | Signature radius | 3265.23 m |
| | Cargo capacity | 625 m3 |
Systems
| | | |
| --- | --- | --- |
| | Capacitor capacity | 6000 GJ |
| | Capacitor recharge time | 15 minutes 37 seconds |
| | Powergrid | 15500.4 / 18750MW |
| | CPU | 941 / 975 tf |
Shields
| | | |
| --- | --- | --- |
| | Shield capacity | 10625 |
| | Shield recharge time | 31 minutes 15 seconds |
| | Shield resistances | 62.47% 77.36% 72.83% 69.98% |
Armor
| | | |
| --- | --- | --- |
| | Armor hit points | 8750 |
| | Armor resistances | 57.5% 23.5% 36.25% 53.25% |
Structure
| | | |
| --- | --- | --- |
| | Structure hit points | 9375 |
| | Structure resistances | 60% 60% 60% 60% |
| | Drone bandwidth | 50 Mbit/sec |
| | Drone control range | 0 m |
Drones
| | | |
| --- | --- | --- |
| | Drone capacity | 50 m3 |
Download EVEMon Skill Plan
[Rokh, Ion Blaster PvP rokh]
Tracking Enhancer II
Damage Control II
Magnetic Field Stabilizer II
Magnetic Field Stabilizer II
Magnetic Field Stabilizer II

Adaptive Invulnerability Field II
Adaptive Invulnerability Field II
Heavy Capacitor Booster II
X-Large Shield Booster II
500MN Microwarpdrive II
Shield Boost Amplifier II

Ion Blaster Cannon II
Ion Blaster Cannon II
Ion Blaster Cannon II
Ion Blaster Cannon II
Ion Blaster Cannon II
Ion Blaster Cannon II
Ion Blaster Cannon II
Ion Blaster Cannon II

Large Core Defense Capacitor Safeguard I
Large Anti-EM Screen Reinforcer I
Large Anti-Thermal Screen Reinforcer I


Hobgoblin II
Hornet EC-300

Item
Quantity
Value
Rokh
1
198,004,000
Tracking Enhancer II
1
639,874
Damage Control II
1
448,449
Adaptive Invulnerability Field II
2
1,749,000
Hobgoblin II
1
299,999
Ion Blaster Cannon II
8
2,810,010
Heavy Capacitor Booster II
1
1,329,130
Magnetic Field Stabilizer II
3
51
X-Large Shield Booster II
1
1,595,820
500MN Microwarpdrive II
1
7,298,000
Null L
1
190
Caldari Navy Antimatter Charge L
1
961
Hornet EC-300
1
5,894
Shield Boost Amplifier II
1
749,498
Large Core Defense Capacitor Safeguard I
1
529,999
Large Anti-EM Screen Reinforcer I
1
693,960
Large Anti-Thermal Screen Reinforcer I
1
639,998
Total
238,214,003