Dominix: Sentry Domi, higher dps for faster missions.
22
0
714 Views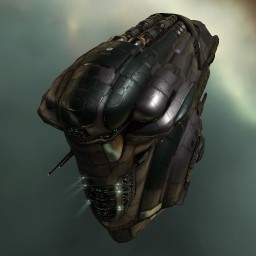 Modulename
I've seen a few sentry setups on this site, some have the right idea. I took it a step further by adding mag stabs, to really make this thing tear rats a new one.
(all numbers assuming perfect skills)
861 DPS @ 27-36km (Gardes / Antimatter)
554 DPS @ 76-90km (Wardens / Tungsten)

Gardes do about 495dps on their own, and rails loaded with antimatter do about 365

the current tank setup is serpentis, can permatank about 466.
specific rat setups range from 339(angel)-543(gurista) permatank.

now, in my opinion, dual rep would just be silly on a ship like this. when you can take out large amounts of opposing dps at sniper range, a 450 dps tank is excessively adequate.

the drone space outside sentries, and the 6th high slot are to taste.
Targeting
| | | |
| --- | --- | --- |
| | Maximum targets | 7 |
| | Maximum targeting range | 87.5 km |
| | Scan resolution | 112.5 |
| | Sensor strength | 0 0 22 0 |
Size/Movement
| | | |
| --- | --- | --- |
| | Maximum velocity | 136.25 |
| | Inertia modifier | 0.08465 |
| | Signature radius | 465 m |
| | Cargo capacity | 600 m3 |
Systems
| | | |
| --- | --- | --- |
| | Capacitor capacity | 7500 GJ |
| | Capacitor recharge time | 4 minutes 4 seconds |
| | Powergrid | 9880.5 / 12500MW |
| | CPU | 625.25 / 712.5 tf |
Shields
| | | |
| --- | --- | --- |
| | Shield capacity | 9000 |
| | Shield recharge time | 31 minutes 15 seconds |
| | Shield resistances | 0% 50% 40% 20% |
Armor
| | | |
| --- | --- | --- |
| | Armor hit points | 10000 |
| | Armor resistances | 50% 10% 84.73% 84.73% |
Structure
| | | |
| --- | --- | --- |
| | Structure hit points | 10625 |
| | Structure resistances | 0% 0% 0% 0% |
| | Drone bandwidth | 125 Mbit/sec |
| | Drone control range | 0 m |
Drones
| | | |
| --- | --- | --- |
| | Drone capacity | 375 m3 |
Download EVEMon Skill Plan
[Dominix, Dominix: Sentry Domi higher dps for faster missions.]
Large Armor Repairer II
Magnetic Field Stabilizer II
Magnetic Field Stabilizer II
Armor Kinetic Hardener II
Armor Kinetic Hardener II
Armor Thermic Hardener II
Armor Thermic Hardener II

Cap Recharger II
Cap Recharger II
Cap Recharger II
Cap Recharger II
Omnidirectional Tracking Link I

350mm Railgun II
350mm Railgun II
350mm Railgun II
350mm Railgun II
350mm Railgun II
Drone Link Augmentor I

Large Sentry Damage Augmentor I
Large Capacitor Control Circuit I
Large Capacitor Control Circuit I


Hammerhead II
Hobgoblin II
Warden II
Garde II

Item
Quantity
Value
Dominix
1
192,000,000
Cap Recharger II
4
473,000
Hammerhead II
1
725,965
Hobgoblin II
1
305,080
Large Armor Repairer II
1
1,198,170
Magnetic Field Stabilizer II
2
899,995
Armor Kinetic Hardener II
2
1,500,000
Armor Thermic Hardener II
2
1,576,500
350mm Railgun II
5
2,663,000
Caldari Navy Antimatter Charge L
1
1,000
Caldari Navy Tungsten Charge L
1
1,399
Drone Link Augmentor I
1
178,014
Omnidirectional Tracking Link I
1
1,000
Large Sentry Damage Augmentor I
1
11,500,000
Large Capacitor Control Circuit I
2
8,648,990
Warden II
1
1,306,700
Garde II
1
1,129,990
Total
248,805,288