Lvl 4 Sentry Dominix
61
9
1,568 Views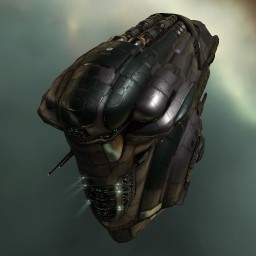 Modulename
In my time doing lvl 4 missions, I have found the Dominix to be one of the best choices out there. What makes the Dominix so effective is its wide use of drones. Jamming and other EWAR doesn't effect a Dominix like it does other ships since drones continue to do damage even when your jammed/dampened etc. It's easy to make it cap stable, and the damage it can dish out is amazing.

The loadout here focuses around having high skills in drones, especially in the sentry areas. Sentry drones are amazing because the damage output is the same, if not better then heavy drones, and the damage is immediate, AKA no travel time to the target.

For all you people that INSIST that the dominix needs 2 LAR you are sadly mistaken. dual LAR dominix are, in my opinion, for new lvl 4 missioners who want to play it safe. That being said, I have not encountered a mission that can't be done with just one. As long as you read up on the mission before hand and manage agro well, theres no way you should run into any problems.

Mixing the guns with the sentry drones you can dish out a large amount of damage that tops most other pve ships.

So lets look at the stats:

Antimatter + Drones: 754 DPS (27km optimal)
Iridium + Drones: 664 DPS (65km optimal)

Current set up is against guristas

Defence: 543
EHP:78,438

This setup is cap stable already, allowing me to use the rig slots to increase the sentry damage output.

This isn't an ungodly tight fit, but you need to have pretty good skills in drones, and fairly good backup skills.

The 350's can be replaced with 350 prototypes if you can't fit those large guns yet. Only drops the DPS a little bit.

No I did not go for a salvager dominix. I like finishing missions as quickly as possible and then bringing in a salvager ships to take care of the cleaning up.

Enjoy, post, comment,
Xavier

P.S. There have been reports that an AWU5 is needed in order to fit the railgun IIs instead of the prototypes. I don't know whats up, as it fits in my EFT and not in others.

If it can't fit (lol) just put in the AWU5 or drop to prototypes.


Targeting
| | | |
| --- | --- | --- |
| | Maximum targets | 7 |
| | Maximum targeting range | 87.5 km |
| | Scan resolution | 112.5 |
| | Sensor strength | 0 0 22 0 |
Size/Movement
| | | |
| --- | --- | --- |
| | Maximum velocity | 136.25 |
| | Inertia modifier | 0.08465 |
| | Signature radius | 465 m |
| | Cargo capacity | 600 m3 |
Systems
| | | |
| --- | --- | --- |
| | Capacitor capacity | 7500 GJ |
| | Capacitor recharge time | 4 minutes 3 seconds |
| | Powergrid | 9608.5 / 12500MW |
| | CPU | 592 / 676.88 tf |
Shields
| | | |
| --- | --- | --- |
| | Shield capacity | 9000 |
| | Shield recharge time | 31 minutes 15 seconds |
| | Shield resistances | 0% 50% 40% 20% |
Armor
| | | |
| --- | --- | --- |
| | Armor hit points | 10000 |
| | Armor resistances | 50% 10% 89.52% 70.75% |
Structure
| | | |
| --- | --- | --- |
| | Structure hit points | 10625 |
| | Structure resistances | 0% 0% 0% 0% |
| | Drone bandwidth | 125 Mbit/sec |
| | Drone control range | 0 m |
Drones
| | | |
| --- | --- | --- |
| | Drone capacity | 375 m3 |
Download EVEMon Skill Plan
[Dominix, Lvl 4 Sentry Dominix]
Capacitor Power Relay II
Capacitor Power Relay II
Armor Kinetic Hardener II
Armor Kinetic Hardener II
Armor Kinetic Hardener II
Armor Thermic Hardener II
Imperial Navy Large Armor Repairer

Cap Recharger II
Cap Recharger II
Cap Recharger II
Omnidirectional Tracking Link I
Omnidirectional Tracking Link I

350mm Railgun II
350mm Railgun II
350mm Railgun II
350mm Railgun II
350mm Railgun II
Drone Link Augmentor I

Large Sentry Damage Augmentor I
Large Sentry Damage Augmentor I
Empty


Hammerhead II
Ogre II
Hobgoblin II
Garde II

Item
Quantity
Value
Dominix
1
195,000,000
Iridium Charge L
1
18
Antimatter Charge L
1
190
Capacitor Power Relay II
2
450,000
Cap Recharger II
3
437,990
Hammerhead II
1
659,990
Ogre II
1
1,050,090
Hobgoblin II
1
299,999
Armor Kinetic Hardener II
3
1,497,500
Armor Thermic Hardener II
1
1,602,500
350mm Railgun II
5
2,500,000
Imperial Navy Large Armor Repairer
1
150,082,000
Drone Link Augmentor I
1
246,500
Omnidirectional Tracking Link I
2
1,000
Large Sentry Damage Augmentor I
2
10,249,500
Garde II
1
1,199,000
Total
389,847,757