Phoenix
1
0
5 Views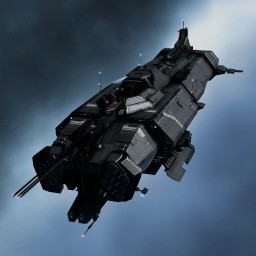 Modulename
Never tried to fit a Phoenix before so any suggestions for improvement would be appreciated!

Dps - 3688
Volley - 85761

EHP - 2m+
Cap is only good for 2 minutes or so with this fit but do you need stability for this ship?

Went with target painter drones seeing as i've heard it's a bitch to hit anything smaller than another cap or pos.

So like i say new to caps and first efit attempt so any feed back!
Targeting
| | | |
| --- | --- | --- |
| | Maximum targets | 7 |
| | Maximum targeting range | 143.75 km |
| | Scan resolution | 14.06 |
| | Sensor strength | 48 0 0 0 |
Size/Movement
| | | |
| --- | --- | --- |
| | Maximum velocity | 0 |
| | Inertia modifier | 0.01979 |
| | Signature radius | 4732.92 m |
| | Cargo capacity | 2750 m3 |
Systems
| | | |
| --- | --- | --- |
| | Capacitor capacity | 60937.5 GJ |
| | Capacitor recharge time | 44 minutes 9 seconds |
| | Powergrid | 445011 / 562500MW |
| | CPU | 1114.5 / 1203.13 tf |
Shields
| | | |
| --- | --- | --- |
| | Shield capacity | 356455.08 |
| | Shield recharge time | 5 hours |
| | Shield resistances | 75.87% 87.94% 72.83% 80.7% |
Armor
| | | |
| --- | --- | --- |
| | Armor hit points | 195312.5 |
| | Armor resistances | 57.5% 23.5% 36.25% 53.25% |
Structure
| | | |
| --- | --- | --- |
| | Structure hit points | 234375 |
| | Structure resistances | 60% 60% 60% 60% |
| | Drone bandwidth | 0 Mbit/sec |
| | Drone control range | 0 m |
Drones
| | | |
| --- | --- | --- |
| | Drone capacity | 0 m3 |
Download EVEMon Skill Plan
[Phoenix, Phoenix]
Damage Control II
Co-Processor II
Caldari Navy Ballistic Control System
Caldari Navy Ballistic Control System
Caldari Navy Ballistic Control System

Adaptive Invulnerability Field II
Adaptive Invulnerability Field II
Explosive Deflection Field II
EM Ward Field II
Thermic Dissipation Field II
Capital Shield Booster I
Shield Boost Amplifier II

Siege Module I
Citadel Torpedo Launcher I
Citadel Torpedo Launcher I
Citadel Torpedo Launcher I

Large Core Defense Field Extender I
Large Core Defense Field Extender I
Large Core Defense Field Extender I


Berserker TP-900

Item
Quantity
Value
Phoenix
1
2,891,020
Damage Control II
1
501,090
Adaptive Invulnerability Field II
2
1,728,000
Explosive Deflection Field II
1
1,305,100
EM Ward Field II
1
1,417,000
Thermic Dissipation Field II
1
1,599,000
Co-Processor II
1
837,000
Caldari Navy Ballistic Control System
3
91,297,700
Siege Module I
1
61,148,500
Citadel Torpedo Launcher I
3
32,503,500
Capital Shield Booster I
1
43,340,000
Berserker TP-900
1
2,502
Shield Boost Amplifier II
1
868,990
Large Core Defense Field Extender I
3
10,899,000
Total
521,466,802