PVP Hurricane Fit
3
1
285 Views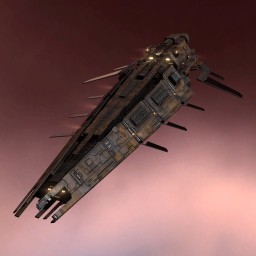 Modulename
This is a setup I use, personally, on my Hurricane I PVP in.

Ammo: Republic Fleet EMP M (Regular EMP works fine too) Sabretooth Light Missile

Drones: 4x Warrior II's, 1x Hammerhead II

This is just a Huricane for everyday pvp, it has great DPS (close to 500,) with decent survivability with the plate, DC II, and the MAR II. You can't (by any means) Perma run the MWD or the Repper, so use the MWD in bursts to get closer and use the Repper when you start to doubt your winning the fight.

The 4 warriors and the hammerhead do decent dps, while the warriors help to deal with faster frigs/interceptors. (The assault missile launchers also help with this)

I've used this setup a lot, and it has treated me well, hopefully itll do the same for you!
Targeting
| | | |
| --- | --- | --- |
| | Maximum targets | 6 |
| | Maximum targeting range | 81.25 km |
| | Scan resolution | 357.5 |
| | Sensor strength | 0 16 0 0 |
Size/Movement
| | | |
| --- | --- | --- |
| | Maximum velocity | 1132.2 |
| | Inertia modifier | 0.4752 |
| | Signature radius | 1500 m |
| | Cargo capacity | 425 m3 |
Systems
| | | |
| --- | --- | --- |
| | Capacitor capacity | 2250 GJ |
| | Capacitor recharge time | 7 minutes 24 seconds |
| | Powergrid | 1461.4 / 1406.25MW |
| | CPU | 430.5 / 500 tf |
Shields
| | | |
| --- | --- | --- |
| | Shield capacity | 5312.5 |
| | Shield recharge time | 17 minutes 30 seconds |
| | Shield resistances | 12.5% 56.25% 47.5% 30% |
Armor
| | | |
| --- | --- | --- |
| | Armor hit points | 10625 |
| | Armor resistances | 74.5% 42.63% 52.19% 58.56% |
Structure
| | | |
| --- | --- | --- |
| | Structure hit points | 4375 |
| | Structure resistances | 60% 60% 60% 60% |
| | Drone bandwidth | 30 Mbit/sec |
| | Drone control range | 0 m |
Drones
| | | |
| --- | --- | --- |
| | Drone capacity | 30 m3 |
Download EVEMon Skill Plan
[Hurricane, PVP Hurricane Fit]
Gyrostabilizer II
Gyrostabilizer II
Damage Control II
Medium Armor Repairer II
Energized Adaptive Nano Membrane II
1600mm Rolled Tungsten Compact Plates

Sensor Booster II
Warp Disruptor II
X5 Prototype Engine Enervator
50MN Microwarpdrive II

Limited 'Limos' Rapid Light Missile Launcher
Limited 'Limos' Rapid Light Missile Launcher
220mm Medium Prototype Automatic Cannon
220mm Medium Prototype Automatic Cannon
220mm Medium Prototype Automatic Cannon
220mm Medium Prototype Automatic Cannon
220mm Medium Prototype Automatic Cannon
220mm Medium Prototype Automatic Cannon

Empty
Empty
Empty



Item
Quantity
Value
Hurricane
1
55,052,500
Gyrostabilizer II
2
794,998
Sensor Booster II
1
990,000
Damage Control II
1
501,090
Warp Disruptor II
1
1,160,000
Medium Armor Repairer II
1
1,038,960
X5 Prototype Engine Enervator
1
315,420
Limited 'Limos' Rapid Light Missile Launcher
2
17,600
220mm Medium Prototype Automatic Cannon
6
5,200
Energized Adaptive Nano Membrane II
1
665,000
1600mm Rolled Tungsten Compact Plates
1
590,000
50MN Microwarpdrive II
1
4,119,030
Total
66,088,396