Dominix: lvl 4 missions for new battleship pilot
5
0
2,397 Views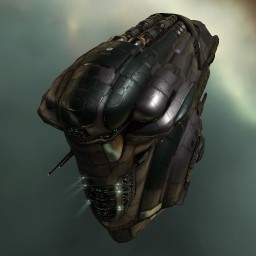 Modulename
Latest tweak:
I replaced the named CPR with a DCU II which makes this loadout a beastly tank. With my current skills (admittedly still very lacking in some areas) EFT shows 56,112 effective HP.
Example of effectiveness for ya. I ran "Worlds Collide" with Guristas and Serpentis (Serps in last pocket). I fitted 2x kin, 2x therm hardeners of course and tanked the whole mess with no real troubles. The middle room got a little hairy because I had aggro from pretty much everything all at once, but as my drones mowed through the small fry rats up close it got easier and easier.
Now that I've used this loadout on a number of level 4 missions I have a few observations.
1) The tank is solid and I can't imagine a much better tank without many more skillpoints than I have.
2) Turret damage is currently underwhelming. That's hopefully just my weak gunnery skills though.
3) Taking point #2 into account, you really have to have good drone skills or this sort of setup is going to be pretty pointless.
I've got about 20 days until Heavy Drones V finishes and then I can use Ogre IIs. After that I'll move on to sentry drones. At that point missions should go much quicker than they currently are. With T2 light and mediums anything below battleship size falls quickly, but those battleships take forever to kill.
Targeting
| | | |
| --- | --- | --- |
| | Maximum targets | 7 |
| | Maximum targeting range | 87.5 km |
| | Scan resolution | 112.5 |
| | Sensor strength | 0 0 22 0 |
Size/Movement
| | | |
| --- | --- | --- |
| | Maximum velocity | 143.06 |
| | Inertia modifier | 0.08465 |
| | Signature radius | 465 m |
| | Cargo capacity | 600 m3 |
Systems
| | | |
| --- | --- | --- |
| | Capacitor capacity | 7500 GJ |
| | Capacitor recharge time | 4 minutes 4 seconds |
| | Powergrid | 7032 / 12500MW |
| | CPU | 551.25 / 750 tf |
Shields
| | | |
| --- | --- | --- |
| | Shield capacity | 9000 |
| | Shield recharge time | 31 minutes 15 seconds |
| | Shield resistances | 12.5% 56.25% 47.5% 30% |
Armor
| | | |
| --- | --- | --- |
| | Armor hit points | 10000 |
| | Armor resistances | 85.03% 73.05% 80.54% 80.54% |
Structure
| | | |
| --- | --- | --- |
| | Structure hit points | 10625 |
| | Structure resistances | 60% 60% 60% 60% |
| | Drone bandwidth | 125 Mbit/sec |
| | Drone control range | 0 m |
Drones
| | | |
| --- | --- | --- |
| | Drone capacity | 375 m3 |
Download EVEMon Skill Plan
[Dominix, Dominix: lvl 4 missions for new battleship pilot]
Damage Control II
Large Armor Repairer II
Energized Adaptive Nano Membrane II
Armor EM Hardener II
Armor Kinetic Hardener II
Armor Explosive Hardener II
Armor Thermic Hardener II

Cap Recharger II
Cap Recharger II
Cap Recharger II
Cap Recharger II
Drone Navigation Computer I

Dual 250mm Prototype Gauss Gun
Dual 250mm Prototype Gauss Gun
Dual 250mm Prototype Gauss Gun
Dual 250mm Prototype Gauss Gun
Dual 250mm Prototype Gauss Gun
Drone Link Augmentor I

Large Auxiliary Nano Pump I
Large Capacitor Control Circuit I
Large Capacitor Control Circuit I



Item
Quantity
Value
Dominix
1
192,000,000
Cap Recharger II
4
473,000
Damage Control II
1
501,090
Large Armor Repairer II
1
1,198,170
Dual 250mm Prototype Gauss Gun
5
33,755
Energized Adaptive Nano Membrane II
1
665,000
Armor EM Hardener II
1
1,598,920
Armor Kinetic Hardener II
1
1,500,000
Armor Explosive Hardener II
1
1,690,780
Armor Thermic Hardener II
1
1,576,500
Drone Link Augmentor I
1
178,014
Drone Navigation Computer I
1
1
Large Auxiliary Nano Pump I
1
10,019,500
Large Capacitor Control Circuit I
2
8,648,990
Total
230,286,730