Dominix: Newbie L4 Mission Runner
69
5
36,724 Views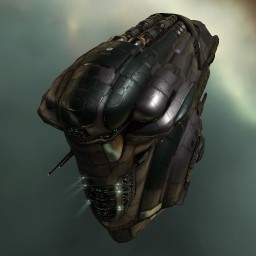 Modulename
I know there are many variations on this ship already in Battleclinic, however, I've not seen a clear explanation of how and why you build this ship, how to use it, and just how quickly you can get into it as a new player. I made this build with this huge ass comment, to explain how to build this ship, and how to think about it when you run it in missions. You can grind a lot of ISK with this ship, if you train for it and build for it. This is one of many variations I've used of the Domnix 2 repper armor tank. A variation of this ship can be trained for in about 2-3 months of skills. Which should be long enough to get access to L4 missions.
You cannot create a comparable tank in the Megathron, guns = cap use, no drones = less damage, you cannot sustain the 2 repper tank at these levels long enough to take out significant DPS with drones alone in the Megathron without many more months of skill training. Therefore use the Dominix as your L4 mission grinder. You'll be effective sooner rather than later and be making a lot of money early on.
Currently my DPS out is about 360 max (Ogre's and Antimatter) and my tanked DPS is about 550-900 depending on the incoming damage.
Key skills to get into this:
1. Heavy Drone
2. Hull Upgrades IV
3. Energy Grid Upgrades III (T2 rechargers)
4. Armor Repair IV (T2 repairers)
5. Jury Rigging III (cap control circuits)
Notes:
We run L4 missions to make money. That's the bottom line, so doing it efficiently is the key. So we don't want to warp out, we can't lose the ship, and we don't want the mission to take forever, or we lose salvage/loot. With this build, I'm currently making 15-20m/hour of investment. I actually bring a Drake with me on an alt most of the time running a passive tank 450-500 DPS that adds about 100 DPS out to each mission. But this guy can solo them. Salvage in a catalyst with tractors is a must. I haul on the Drake alt with an iteron. I've used an iteron mk I with cargohold expanders to haul all the loot from Angel Extravaganza in one shot, so it's minimal training to do this efficiently with an alt account, otherwise just jump back to station and warp back to the can.
There are two sides to this build, tank and outgoing damage. Both matter but...
Tanking :
You have to be able to tank 600+ DPS in order to survive long enough to take out an L4 mission in a Battleship without warping out 1 or more times. Running 2 armor repairers and being cap stable doing so are the key. With one repper I don't think you can get over about 450 tank against Serpentis without a lot of skill training and/or very expensive gear, and Serpentis will always be your highest tanked DPS. Alter your 4 resists to match the incoming damage, I've even experimented with using an EANM in place of one hardener against NPC's that have widely varied secondary damage.
How do I stay cap stable? CCC rigs, and cap rechargers. If you are having trouble with fitting or with cap stability you can sacrifice the DCU for a cap power relay and you can also sacrifice the AB for an additional recharger.
The last piece to my tank is "speed". In some missions you have relatively high speed BS's and t2 cruisers 200m/s+ the afterburner is used to make sure you stay out of optimal range long enough to reduce the incoming damage. Warping out and running back through gates is a time killer.
Damage Dealing
1. Guns are good : It takes a lot of time to train skills necessary to fly t2 heavy drones or even t2 light and medium, let alone the time to run t2 sentries. So you need the guns for damage. With my current skills my guns do about 138 DPS out of my 357. In a year when my t2 drones do 500DPS on their own, I won't need guns, but for now I do if I want to be efficient. Guns can make the difference between 3 hours and 1 hour in a mission. Just 50-100 more damage per second can make a huge time difference, due to the armor/shield repairing that mission npcs do.
2. Bring light and medium drones in addition to your Ogres. In missions the firgates will web/scramble you, the cruisers will jam you. The light/medium drones will make quick work of those classes of ships.
So how do I prepare for this build?
I highly recommend training armor tanking standard, core competency basic, and battleship hybrid turrets minimum. The cap/fitting/targetting skills in particular.
Now I'm in it what do I train?
In no particular order :
1. Drone Skills
2. Cap skills
3. Armor tank skills
4. Gun skills
5. Battleship III, IV
Pick skills that make sense and let you upgrade the fit. Push the tank up, push the damage up. The more damage you can tank the less you have to run away. The more damage you do, the faster the mission ends.
How do I prepare for each mission?
1. Look up the mission report on
EVE-SurvivalEve-Survival
. Check incoming damage types, check recommended damage, I only carry Therm/Kin drones because they are the highest raw damage, and every mission I've seen has Therm or Kin as either primary or secondary recommended damage.
2. Fit the right resists. Use EFT to setup your resists, and fit the best tank you can.
3. Go forth and kill!
Targeting
| | | |
| --- | --- | --- |
| | Maximum targets | 7 |
| | Maximum targeting range | 87.5 km |
| | Scan resolution | 112.5 |
| | Sensor strength | 0 0 22 0 |
Size/Movement
| | | |
| --- | --- | --- |
| | Maximum velocity | 365.79 |
| | Inertia modifier | 0.08465 |
| | Signature radius | 465 m |
| | Cargo capacity | 600 m3 |
Systems
| | | |
| --- | --- | --- |
| | Capacitor capacity | 7500 GJ |
| | Capacitor recharge time | 3 minutes 27 seconds |
| | Powergrid | 9518 / 12500MW |
| | CPU | 569.25 / 750 tf |
Shields
| | | |
| --- | --- | --- |
| | Shield capacity | 9000 |
| | Shield recharge time | 31 minutes 15 seconds |
| | Shield resistances | 12.5% 56.25% 47.5% 30% |
Armor
| | | |
| --- | --- | --- |
| | Armor hit points | 10000 |
| | Armor resistances | 57.5% 78.37% 72.38% 72.38% |
Structure
| | | |
| --- | --- | --- |
| | Structure hit points | 10625 |
| | Structure resistances | 60% 60% 60% 60% |
| | Drone bandwidth | 125 Mbit/sec |
| | Drone control range | 0 m |
Drones
| | | |
| --- | --- | --- |
| | Drone capacity | 375 m3 |
Download EVEMon Skill Plan
[Dominix, Dominix: Newbie L4 Mission Runner]
Damage Control II
Large Armor Repairer II
Armor Thermic Hardener I
Armor Explosive Hardener I
Armor Explosive Hardener I
Armor Kinetic Hardener I
Federation Navy Large Armor Repairer

Cap Recharger II
Cap Recharger II
Cap Recharger II
Cap Recharger II
100MN Afterburner II

Dual 250mm Prototype Gauss Gun
Dual 250mm Prototype Gauss Gun
Dual 250mm Prototype Gauss Gun
Dual 250mm Prototype Gauss Gun
Dual 250mm Prototype Gauss Gun
Drone Link Augmentor I

Large Capacitor Control Circuit I
Large Capacitor Control Circuit I
Large Capacitor Control Circuit I


Wasp I
Hammerhead II
Ogre I
Hobgoblin II

Item
Quantity
Value
Dominix
1
192,000,000
Antimatter Charge L
1
185
Wasp I
1
17,881
Cap Recharger II
4
473,000
Damage Control II
1
501,090
Hammerhead II
1
725,965
Ogre I
1
50,835
Hobgoblin II
1
305,080
Large Armor Repairer II
1
1,198,170
Dual 250mm Prototype Gauss Gun
5
33,755
Armor Thermic Hardener I
1
190,000
Armor Explosive Hardener I
2
1
Armor Kinetic Hardener I
1
136,980
100MN Afterburner II
1
2,350,000
Federation Navy Large Armor Repairer
1
45,555,100
Drone Link Augmentor I
1
178,014
Large Capacitor Control Circuit I
3
8,648,990
Total
271,217,047