Lachesis: Blasterboat
31
3
493 Views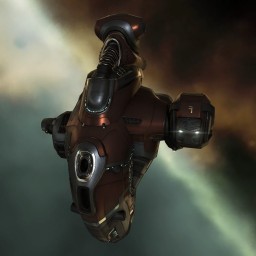 Modulename
Lachesis was a so-so ship before dampener nerf. After dampener nerf it is almost completely forgotten. Here is a fit that reminds us the first part of this ship class. It is a COMBAT recon ship.
Like all celestis hull ships, lach can also be fitted as a blaster boat. But with lachesis you have the additional advantage of naturally high sensor strength(Like a free ECCM
), long locking range....and surprise factor.
Some numbers from EFT:
EHP: 64k
DPS: 445
Defense: 154
Sensor Str: 30! (One of the best base sensor str values in the game)
The fit is veeeeery tight, so you may want to swap one mfs with pdsII(also helps with tank)
Overall you have a HAC class tank with decent dps. Cap is stable as long as mwd is turned off. Absence of plates means faster aligning and higher top speed.
...and lachesis is cheaper than most hacs out there too
Targeting
| | | |
| --- | --- | --- |
| | Maximum targets | 10 |
| | Maximum targeting range | 175 km |
| | Scan resolution | 337.5 |
| | Sensor strength | 0 0 30 0 |
Size/Movement
| | | |
| --- | --- | --- |
| | Maximum velocity | 1800.43 |
| | Inertia modifier | 0.378 |
| | Signature radius | 1448.85 m |
| | Cargo capacity | 320 m3 |
Systems
| | | |
| --- | --- | --- |
| | Capacitor capacity | 1232.81 GJ |
| | Capacitor recharge time | 4 minutes 2 seconds |
| | Powergrid | 953.4 / 1062.5MW |
| | CPU | 540 / 562.5 tf |
Shields
| | | |
| --- | --- | --- |
| | Shield capacity | 15126.09 |
| | Shield recharge time | 15 minutes 37 seconds |
| | Shield resistances | 70.89% 69.38% 86.22% 69.38% |
Armor
| | | |
| --- | --- | --- |
| | Armor hit points | 1875 |
| | Armor resistances | 57.5% 23.5% 79.28% 65.47% |
Structure
| | | |
| --- | --- | --- |
| | Structure hit points | 1400 |
| | Structure resistances | 60% 60% 60% 60% |
| | Drone bandwidth | 50 Mbit/sec |
| | Drone control range | 0 m |
Drones
| | | |
| --- | --- | --- |
| | Drone capacity | 50 m3 |
Download EVEMon Skill Plan
[Lachesis, Lachesis: Blasterboat]
Damage Control II
Magnetic Field Stabilizer II
Magnetic Field Stabilizer II
Empty

Warp Scrambler II
Adaptive Invulnerability Field II
EM Ward Field II
Large Shield Extender II
Large Shield Extender II
Large Shield Extender II
50MN Cold-Gas Enduring Microwarpdrive

Heavy Missile Launcher II
Heavy Missile Launcher II
Heavy Electron Blaster II
Heavy Electron Blaster II
Heavy Electron Blaster II

Medium Core Defense Field Extender I
Medium Core Defense Field Extender I


Hammerhead II
Hobgoblin II

Item
Quantity
Value
Lachesis
1
173,400,000
Warp Scrambler II
1
1,219,900
Damage Control II
1
448,449
Hammerhead II
1
659,990
Adaptive Invulnerability Field II
1
1,749,000
EM Ward Field II
1
1,449,700
Heavy Missile Launcher II
2
1,000,000
Hobgoblin II
1
299,999
Heavy Electron Blaster II
3
1,490,000
Large Shield Extender II
3
879,970
50MN Cold-Gas Enduring Microwarpdrive
1
6
Magnetic Field Stabilizer II
2
51
Caldari Navy Antimatter Charge M
1
679
Caldari Navy Scourge Heavy Missile
1
1,162
Medium Core Defense Field Extender I
2
1,845,850
Total
192,030,596