The BASIC Orca
1
1
428 Views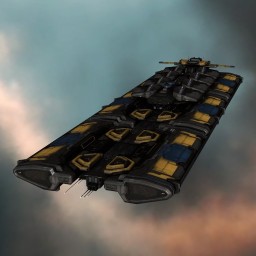 Modulename
A Basic fitting for the Orca.

I use this for transporting and in mining ops.
About 240 general defence. over 100.000 effective HP

The only time I change something is for 2 Inertia stabs in the lowslots when transporting things that will fit without the expanders or when I'm on the way to pick things up, reduces the align time by a bunch.
Targeting
| | | |
| --- | --- | --- |
| | Maximum targets | 5 |
| | Maximum targeting range | 75 km |
| | Scan resolution | 93.75 |
| | Sensor strength | 0 0 15 0 |
Size/Movement
| | | |
| --- | --- | --- |
| | Maximum velocity | 51.88 |
| | Inertia modifier | 0.108 |
| | Signature radius | 600 m |
| | Cargo capacity | 74171.17 m3 |
Systems
| | | |
| --- | --- | --- |
| | Capacitor capacity | 5250 GJ |
| | Capacitor recharge time | 10 minutes |
| | Powergrid | 449 / 1200MW |
| | CPU | 298 / 537.5 tf |
Shields
| | | |
| --- | --- | --- |
| | Shield capacity | 19937.5 |
| | Shield recharge time | 26 minutes 15 seconds |
| | Shield resistances | 48.25% 74.13% 68.95% 58.6% |
Armor
| | | |
| --- | --- | --- |
| | Armor hit points | 7394.86 |
| | Armor resistances | 50% 10% 35% 35% |
Structure
| | | |
| --- | --- | --- |
| | Structure hit points | 34091.75 |
| | Structure resistances | 0% 0% 0% 0% |
| | Drone bandwidth | 50 Mbit/sec |
| | Drone control range | 0 m |
Drones
| | | |
| --- | --- | --- |
| | Drone capacity | 75 m3 |
Download EVEMon Skill Plan
[Orca, The BASIC Orca]
Expanded Cargohold II
Expanded Cargohold II

Adaptive Invulnerability Field II
Adaptive Invulnerability Field II
Large Shield Extender II
Large Shield Extender II

Mining Foreman Link - Mining Laser Field Enhancement I
Mining Foreman Link - Laser Optimization I
Small Tractor Beam I

Large Cargohold Optimization I
Large Cargohold Optimization I
Large Cargohold Optimization I


Warrior II
Mining Drone II
Hornet EC-300

Item
Quantity
Value
Orca
1
625,015,000
Expanded Cargohold II
2
450,000
Adaptive Invulnerability Field II
2
1,728,000
Warrior II
1
295,000
Large Shield Extender II
2
880,000
Mining Drone II
1
525,000
Mining Foreman Link - Mining Laser Field Enhancement I
1
150,004
Mining Foreman Link - Laser Optimization I
1
252,001
Hornet EC-300
1
5,860
Small Tractor Beam I
1
1,700,000
Large Cargohold Optimization I
3
5,695,000
Total
651,143,865