PvE Retribution
3
0
2,255 Views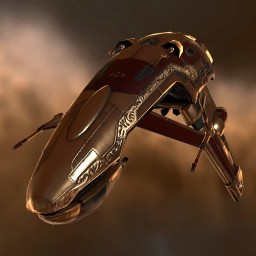 Modulename
I really like this ship... shiny... pretty lasers... that'll do!
Now all I have to do is hope that AFs get a nice little buff in the speed patch making it useful for something other than ratting and complexes.
Stats for all level 5:
- 153 dps.
- Optimal range of 17km with scorch s.
- 610 m/s top speed.
- EFT tank rating of 76.
- 71%, 63%, 79% and 89% armour resistances.
- Cap runs for 1m 51s with everything but the salvager running.
- Runs AB and repairer permanently without guns for getting out of sticky situations.
This thing just eats complexes! Any feedback?
I would like some advice on rigging this ship. I didn't think it was worth it at first but I'm using it fairly frequently and it won't get lost to NPCs (hopefully
)
Targeting
| | | |
| --- | --- | --- |
| | Maximum targets | 5 |
| | Maximum targeting range | 50 km |
| | Scan resolution | 812.5 |
| | Sensor strength | 0 0 0 12 |
Size/Movement
| | | |
| --- | --- | --- |
| | Maximum velocity | 873.9 |
| | Inertia modifier | 2.7864 |
| | Signature radius | 35 m |
| | Cargo capacity | 135 m3 |
Systems
| | | |
| --- | --- | --- |
| | Capacitor capacity | 546.88 GJ |
| | Capacitor recharge time | 2 minutes 20 seconds |
| | Powergrid | 60.6 / 70MW |
| | CPU | 147 / 175 tf |
Shields
| | | |
| --- | --- | --- |
| | Shield capacity | 395 |
| | Shield recharge time | 7 minutes 48 seconds |
| | Shield resistances | 12.5% 89.06% 73.75% 30% |
Armor
| | | |
| --- | --- | --- |
| | Armor hit points | 1523.75 |
| | Armor resistances | 71.39% 88.56% 78.54% 62.81% |
Structure
| | | |
| --- | --- | --- |
| | Structure hit points | 1273.75 |
| | Structure resistances | 60% 60% 60% 60% |
| | Drone bandwidth | 0 Mbit/sec |
| | Drone control range | 0 m |
Drones
| | | |
| --- | --- | --- |
| | Drone capacity | 0 m3 |
Download EVEMon Skill Plan
[Retribution, PvE Retribution ]
Adaptive Nano Plating II
Adaptive Nano Plating II
Damage Control II
Heat Sink II
Coreli C-Type Small Armor Repairer

1MN Afterburner II
Empty

Small Focused Pulse Laser II
Small Focused Pulse Laser II
Small Focused Pulse Laser II
Small Focused Pulse Laser II
Salvager I

Empty
Empty



Item
Quantity
Value
Retribution
1
21,750,000
Multifrequency S
1
8
1MN Afterburner II
1
1,724,990
Adaptive Nano Plating II
2
178,678
Damage Control II
1
501,090
Heat Sink II
1
735,000
Small Focused Pulse Laser II
4
555,497
Scorch S
1
45,400
Coreli C-Type Small Armor Repairer
1
26,250,000
Salvager I
1
59,998
Total
53,645,830